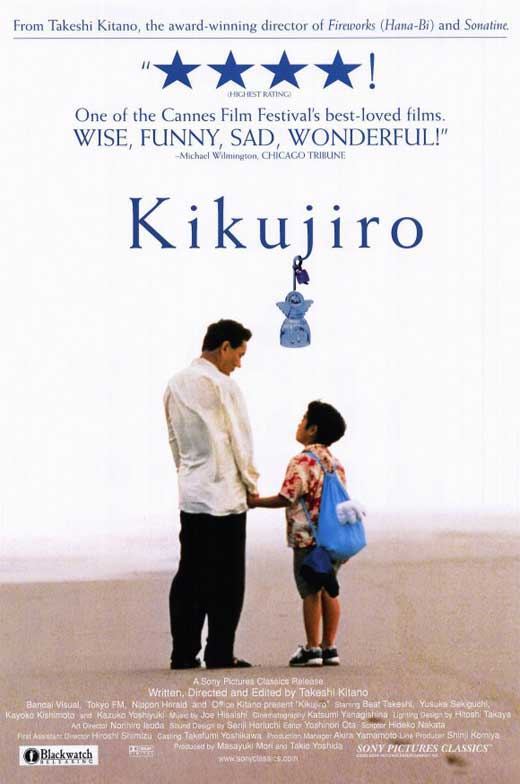 What a totally fantastic movie to watch as the last one of cooperation between Takeshi Kitano and Joe Hisaishi. I'm very glad it was that one and no other. Why? Because the rest of them are not that good? Of course not.
It's just a great "farewell". I'm not really positive about watching the same movie twice, so yeah, I can say "farewell". So the point is that it is probably the most cheerful yet moving film of Mr. Kitano I have seen.
"Kikujiro no Natsu" is about a story of a lonely kid Masao, whose father died and was abandoned by mother. He currently lives with her Grandma. When summer comes, he is being a witness of his friends going on the holidays with parents. He miss school, in which he at least doesn't feel alone. and is dreaming of meeting with her real mother, who lives far away.
One day being bullied by some lads, he is observed by a woman who somehow knows him from before (but we can't really say how). She is with her husband and that is the main character of the movie - Kikujiro, played by Takeshi Kitano himself. After "rescuing" Masao from guys wanting his money, Kikujiro's wife declare his husband to take care of the boy, later informing about everything his Grandma.
Kikujiro ensure Masao to take him to his mother and that is how the story begins.
Fishing
In this movie you may see a few different sides of Kikujiro. It's kinda hard to finally judge him. Kikujiro is a very nervous and violent personality. He quickly becomes mad and can't control himself. But he also is an amazing comedian, specifically or not. For Masao he really is gonna do everything., but also using others people and hurting them. The beginning of their adventure doesn't actually show any deeper feelings for this child. But in every next scene we may notice the growing integration between each other.
It is all about contact between son and father. Kikujiro replaces him for Masao. After it appears that her mother has a new husband and even born a child, there is no one left for him. Kikujiro tries his best to cheer him up. While they are traveling, they meet a poet riding around the country in his car, searching for inspirations and 2 motorcyclists. They all eventually end having a camping. And there are the most enjoyable scenes of this movie. They are all having fun, conducted by Kikujiro. It is obvious that's all for Masao.
Fatso and Baldly
Kitano's inspiration for the character (not the film) was his own father, Kikujiro Kitano, a gambler who struggled to feed his family and pay the rent.
I already listened many times the main musical theme in various arrangements - "Summer", but hearing it in the movie is an another experience. While earlier I didn't see any images, now I recall myself Kikujiro's Summer and it sounds even better. The whole score is particularly like a varations of this theme. But there are few other melodies, which also are great. I wouldn't really say it is repetitive, because it really isn't, believe me.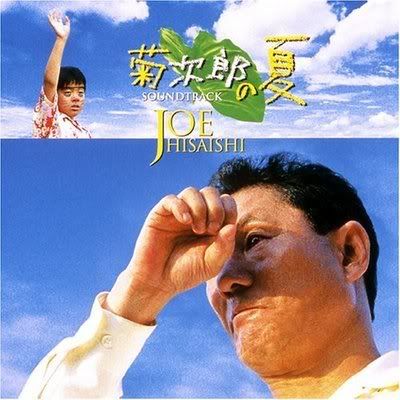 Tracklist:
1. Summer - (6:28)
2. Going Out - (1:19)
3. Mad Summer - (2:57)
4. Night Mare - (1:52)
5. Kindness - (2:00)
6. The Rain - (5:40)
7. Real Eyes - (3:18)
8. Angel Bell - (3:15)
9. Two Hearts - (2:03)
10. Mother - (2:15)
11. River Side - (6:16)
12. Summer Road - (3:08)
My favorites: "Summer", "Kindness", "The Rain", "Real Eyes", "River Side", "Summer Road".
"Kikujiro no Natsu" really moved me. It is also about something I always wanted/still want to try. To left everything for some time and go out in to the world on my own. Have adventures and be free and independence. For me, that is a one of the best movie I've ever watched.
What about you?