Last weekend Hiromi Uehara had her 32th birthday. I guess that is the first time I mention about her on this blog, so I'll make everything clear by writing who is she and why caught my attention.
Hiromi Uehara (上原ひろみ, born 26 March 1979) is a jazz composer and pianist born in Hamamatsu, Japan. She is known for her virtuosic technique, energetic live performances and blend of musical genres such as jazz, progressive rock, classical and fusion in her compositions.
Hiromi's trio initially consisted of bassist Mitch Cohn and drummer Dave DiCenso. In 2004, she recorded her second album Brain with fellow Berklee alums bassist Tony Grey and drummer Martin Valihora and has been recording and touring with them ever since.
Hiromi's Sonicbloom
On October 19, 2006, the trio added guitarist David Fiuczynski in a performance at the Jazz Factory in Louisville KY. He is also featured in the albums "Time Control" and "Beyond Standard", and is currently touring with the group. Due to Fiuczynski's teaching commitments at Berklee College of Music, guitarist John Shannon performs with the group when Fiuczynski is unavailable.
Drummer Mauricio Zottarelli joined Hiromi's Sonicbloom for the 2009 tour.
Ok, that was just a quote from
English Wikipedia
, I didn't want to bother myself too much.
It is quite funny how I did find her. Since some time I believe that jazz (generally speaking) is following classical music in my hierarchy of musical taste. However, this time when that happened I was already only Classical Music lover, not caring about other genres. Due to my fetish, I have been searching symphonic/classical concerts videos to watch (vacation - I had a time). I don't exactly remember what did I write, but I found Hiromi's both concerts (A one recorded as "Hiromi" and the another as "Hiromi's Sonicbloom"). I did notice she is a jazz pianist, but still I thought like "someday I will watch that.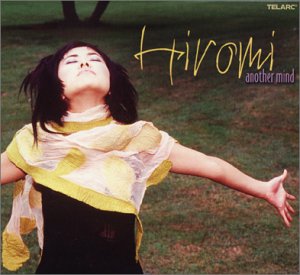 Track Listing:
XYZ | 5:37
Double Personality | 11:57
Summer Rain | 6:07
Joy | 8:29
010101 (binary system) | 8:23
Truth and Lies | 7:19
Dancando No Paraiso | 7:37
Another Mind | 8:43
The Tom and Jerry Show | 6:06 bonus track
Some time later, I eventually decided to test her first CD, "Another Mind". I didn't regret this decision.
Even though I felt a bit strange to listen to it, during a lot of hours of different classical music, it was a nice experience. It is not like I "love" this album, though. I won't lie to you - I really am classical music lover and that is probably the only genre I could really "love" for now. All of tracks here are not that emotional as classical music pieces can be (at least, that is how I feel like). The structure is very, like, complicated. I guess that is just typical for this kind of jazz instrumental music.
Hiromi herself wrote that:
"I don't want to put a name on my music. Other people can put a name on what I do. It's just the union of what I've been listening to and what I've been learning. It has some elements of classical music, it has some rock, it has some jazz, but I don't want to give it a name."
It's fantastic. I really am glad it is how she perceives her music. I would even like to conclude it saying "music is not about genres... Music is about feelings" (mimicry of Leonard Bernstein's sentence from Young People's Concerts). Of course it is, we can say that just needed, to title very composition by genre, however, all of these genres and a lot of subspecies makes me just sick.
The song I most enjoyed in this album probably is "Double Personality". It is much variated and using a lot of instruments. Piano, saxophone, bass guitar, electric guitar, drums and maybe yet something other, but I can't name it. Same "XYZ" is a very good beginning and provides a nice quality of the rest of the CD.
The way how tracks are titled is confusing, probably as with almost instrumental music pieces. Listening to the "Summer Rain", it is hardly to get the feeling you feel like it is raining in summer. As Hiromi said about the kind of her music, I think here should be a similar rule, recalling Bernstein yet again, and now I quote "Music is not about images or stories... It's about feelings". On the other hand, you must admit stories or "pictures" inspired many artists, won't you? Sorry, I deviated from the topic a bit.
"Joy" is actually joyful.
"Binary system" is familiar as well. I don't know what instrument or electronic stuff makes the sound which is there.
"Truth and Lies" is probably the most serious composition on this album. Because of that I like it. The piano is being more emotional, no a little bit like in the classical music, if you ask me.
"Dancando no Pariso" is, as titled a dancing track. It is typical you feel like you want to dance, or at least, I don't know, twirling.
"Another Mind" is also a very well title for this specific track, since, erkhm, I'm not sure how to describe it.
If there is some "The Tom and Jerry" theme, I can't recall it. It is a piano solo play. Very fast and color. After all, it might be the most cheering up song of its CD.
I'm not making an actual review, since I didn't even listen this album much enough to adequately assess it. However, disappointing, that is the CD by Hiromi I listened most (like 3-4 thoroughly, I guess).
Jazz really is combined.
An outstanding cover, won't you agree?




After quite a long time I tried her newest (not for now, since it is "Voice") solo album "Place to Be". It really is a hard music, but in a different meaning than in classical. I seriously appreciated that album, but I couldn't enjoy in that so much. After all, what I prefer in classical music is that it is more emotional, gentle or arranged. I'm not sure if I can be moved by jazz. It's very complicated. It is even harder to remember jazzy compositions, since they are changing in every moment. Maybe I would even resign to keep listening Hiromi if not the last track of this album titled "Green Tea Farm". Later I found this was already composed earlier and contained in another, earlier album. But here was the arrangement with vocal... Her vocal, I guess. This is beautiful and touched me very deeply.
Just on the cover of DVD you can see her empathy
After that I've been listening to Hiromi's music very rarely, but I did. As well as I signed and remembered her date of birthday on my phone. To celebrate her birthday yesterday, I decided to watch the DVD of the concert promoting "Spiral" (2006). The very same day I also listened to this studio album and few others (especially from the project "Hiromi's Sonicbloom"). I must say it was worth to do.
The concert was simply fantastic. I'm not sure if I mentioned it before, but listening to jazz in person is an awesome experience and it is a bigger difference between classical studio CDs and live orchestra.
Hiromi is very passionate... Along with two other members, she incredibly enjoys her music. The trio cooperates amazing. She on the piano, 2 other guys on drums and bass guitar. It was hard to not see her smiling. But it is not a stupid and faking smile/laugh. As I said, you can clearly see she enjoys in what she does. At some moments you could also hear her voice. I'm not yet aware as to how good album is "Spiral", but I noticed the title track sets the bar high. As well, as on the studio CD, here it was played on the beginning. You can see the full tracklist below:
Spiral [14:21]
If... [10:33]
Old Castle, By the River, In the Middle of a Forest [8:25]
Open Door-Tuning-Prologue [12:10]
Déjà Vu [8:43]
Reverse [6:51]
Edge [6:56]
Love and Laughter [11:29]
Dancando No Paraiso [15:05]
And here the tracklist on the album to compare:
Spiral | 9:57
Music for Three-Piece Orchestra:
Open Door - Tuning - Prologue | 10:13
Deja vu | 7:45
Reverse | 5:09
Edge | 5:14
Old Castle, by the river, in the middle of the forest | 8:16
Love and Laughter | 8:57
Return of Kung-Fu World Champion | 9:39
"bonus track"
As for the encore, they did not only perform one of the other song. There was also a solo by the drummer - Martin Valihora (It reminds me about that I didn't even mention the name of guitarist - it's Tony Grey). Its lenght was few minutes after Hiromi started her piano (of course I suspected that to happen, but I guess it was clear, wasn't it?) along with Tony Grey on bass guitar. Few whiles later that was the end.
All the audience stand up, so maybe you really could believe me, that was an epic evening.
The concert was recorded live at Shinigawa Stellar Ball on December 2nd, 2005.
The next weekend I'm gonna watch her second DVD, and as I mentioned earlier - it is "Hiromi's Sonicbloom" production.
P.S. It will not surprise me if she comes to Poland (actually... Why not?!).
P.S 2. I just got to know she already has more DVDs! Gonna watch them all soon.